I haven't been so excited about watches since the last time I wore a watch about 15 years ago was when all the cool kids in school had one. Since then I have found it hard to justify a small obstruction on my wrist for the value of reading time at a moment's notice or the materialistic symbol of fashion and prestige.
That is until I could read my email and Twitter messages on my arm.
I was finally able to get my hands on two highly anticipated round Android Wear smartwatches last week, the Motorola Moto 360 and the LG G Watch R. I put down my iPhone and dived head first into the world of Android & Android Wear for a full week to see if technology can convince me to strap on a watch again in 2015.
Display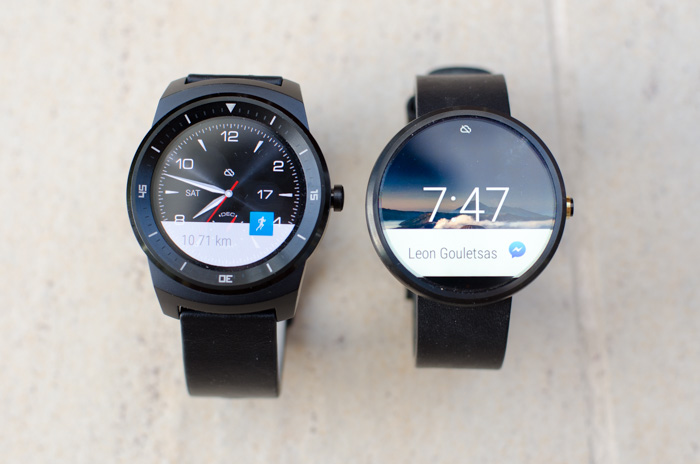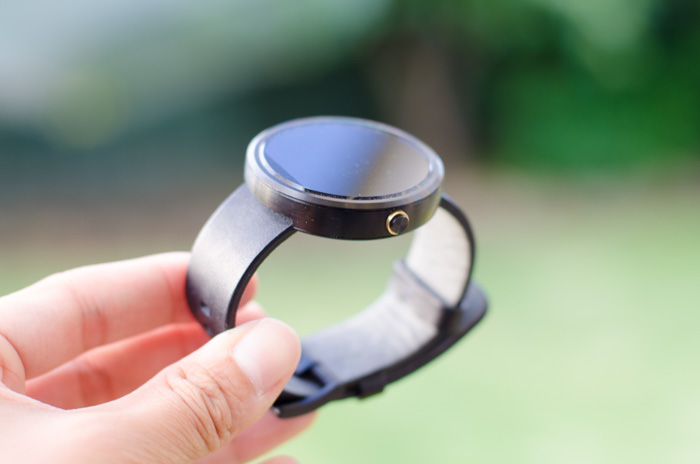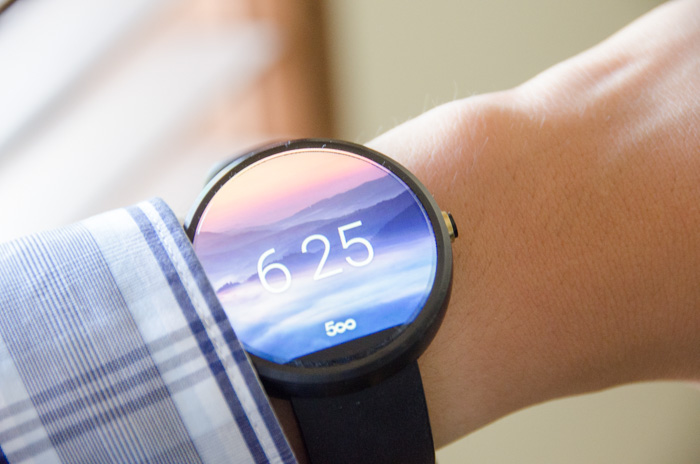 The Moto 360 was infamously the first round smartwatch on the market and it still is the most elegant Android Wear watches available today. The large 1.56″ inch glass display enclosed in a thin stainless steel case looks stunning both screen on and off. Since wearing it I've received nothing but compliments on just how beautiful it looks.
The tiny bezel comes at a cost of a thin slice of the display at the bottom is cut off (nicknamed the "flat tyre") which I didn't actually find as big of an issue. When the screen is off, you can't see it at all, and when the screen is on you're too busy paying attention to the gorgeous display to care.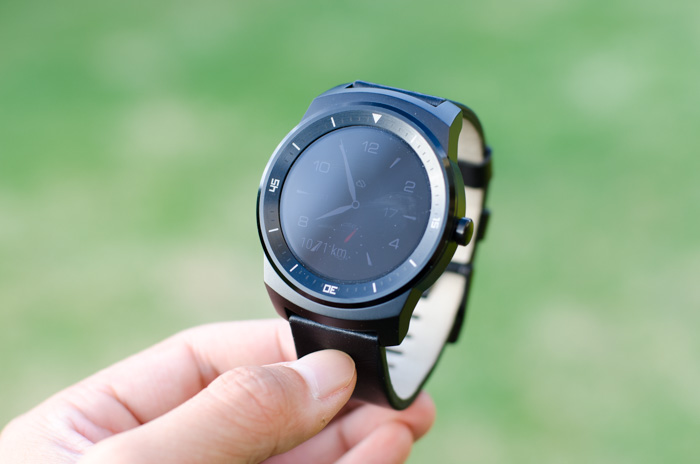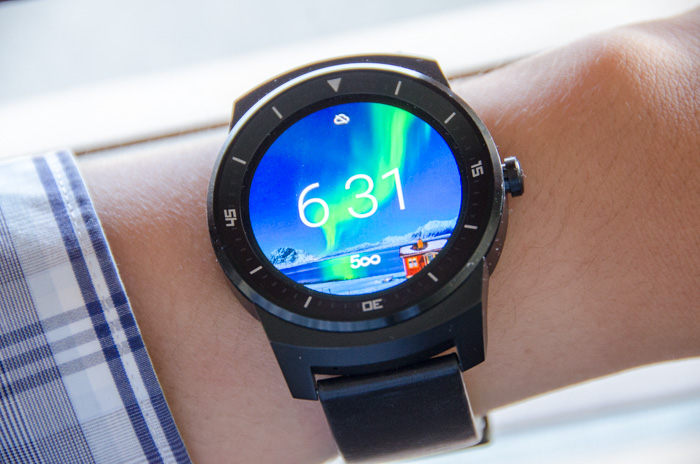 The LG G Watch R is the only other round Android Wear smartwatch, but makes a different tradeoff. It sacrifices a thicker bezel decorated by non-rotatable time markers for a perfectly round display. The screen is also marginally smaller at 1.3″ achieving a slightly higher pixel density which results in slightly crispier text and icons if you pay enough attention.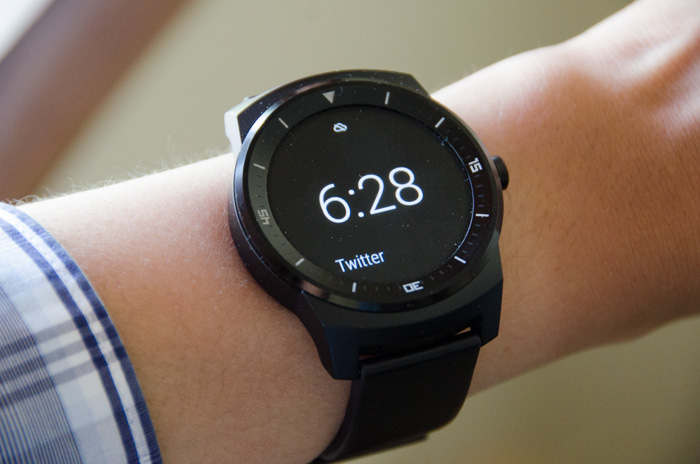 Both watches have vibrant colors and very wide viewing angles, but what sets the LG apart is the POLED (plastic organic light emitting display which has an "always-on" mode that changes the watch face display to a simplified black-and-white version when the watch is inactive. The benefit of this mode is that notification text still appears.
Comfort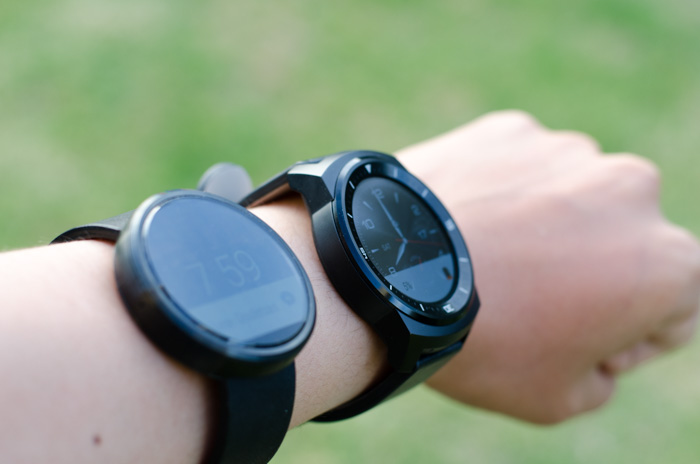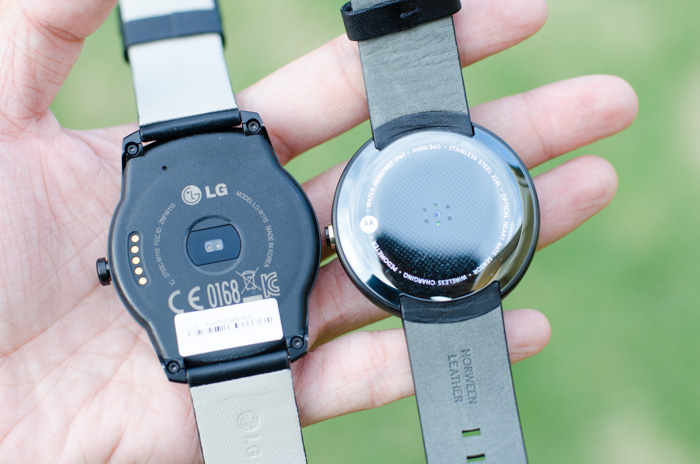 On the wrist, the Moto 360 is lighter (49 grams) and more comfortable to wear. The underside is covered by smooth circular plastic shell which sits firm against the skin.
The LG G Watch R is heavier (63 grams) and extends the size of the backplate far beyond the size of the front bezel and uses a slightly coarse and hard plastic material which presses firmly against the skin.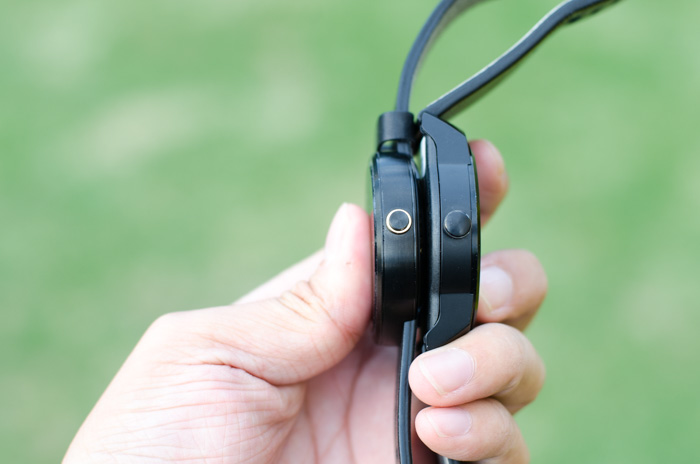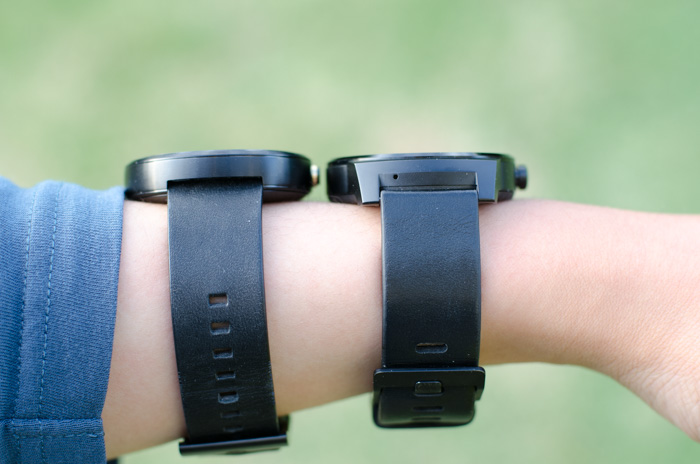 Thickness wise, both watches are about the same height. Both watches also ship with standard leather straps which do a good job of keeping the watch tight around the wrist, even my twig-like arms. Motorola does offer optional stainless steel bands and LG owners have successfully switched out custom bands as well.
Both watches are also waterproof which is handy if you're taking a swim. (But capacitive touch will not work if there's water on the display.)
Android Wear 5.0
Already in it's second major update, Android Wear 5.0 is a very simple and pretty effective wearable operating system with a few rough edges and a little bit crashy – on rare occasions opening settings or apps require two or more tries.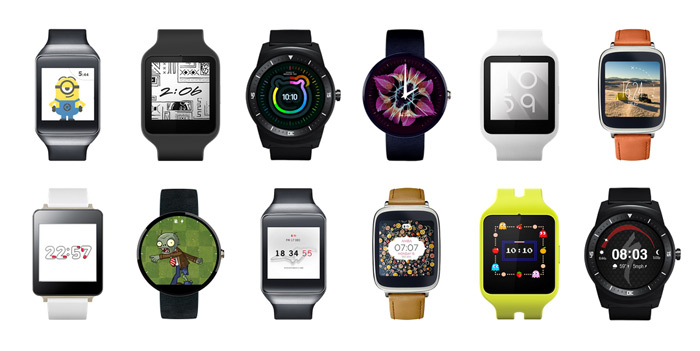 The watchface home screen is now officially customizable with third-party apps, which sits alongside the dozen or so OEM provided watchfaces. There's a good mix of elegant, practical, fancy, nostalgic and funny watchfaces available now that should suit most tastes. Some (not all) contain complications which can be configured to display things like calendar, different timezones, steps and weather. (My favourite is the 500px watch face which shows a new photo every time it wakes)

Out of the box there's a good mix of practical functionality including notifications (more below), caller ID, music player controls, Google Now, steps and heart rate tracking via Google Fit, alarm, calendar and stopwatch. Of course this can be extended with third party Wear-specific apps or Android apps that includes Wear extensions.
It all comes together with swipe gestures, up and down to scroll through notifications in time descending order, right to see more details and actions, left to dismiss and close. I did occasionally confuse my gestures in the minimalistic UI, but fortunately the platform is quite forgiving. For example if you accidentally dismissed a notification you didn't mean to, you can undo within a few seconds.

The de-facto "Ok Google" voice commands which can do Google searches, send text messages and start apps work surprisingly well in crowded and loud areas. Having said that besides demoing the watch to others, in practice I've never actually used voice commands in public.
Performance on the Moto 360 is noticibly worse compared to the LG G Watch R. The transition from screens aren't nearly as smooth (especially side to side). The tilt to wake gesture is also a little bit slower to respond on the Moto 360 which makes me wonder if the OMAP processor is slightly underpowered.
Android Wear notifications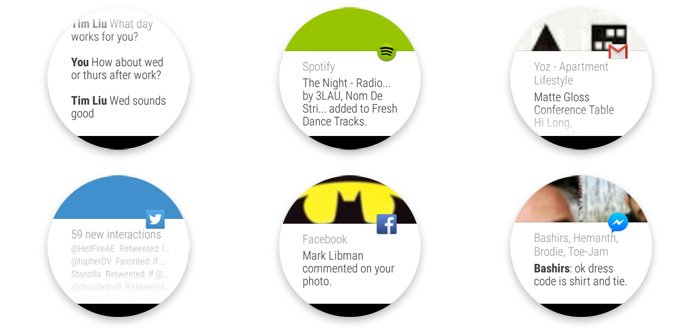 The killer feature of Android Wear is notifications. Natively it displays all Android notifications from any application. Messages, emails, updates and events can all appear as notifications on the watch. (You can also block specific apps from appearing on the watch.)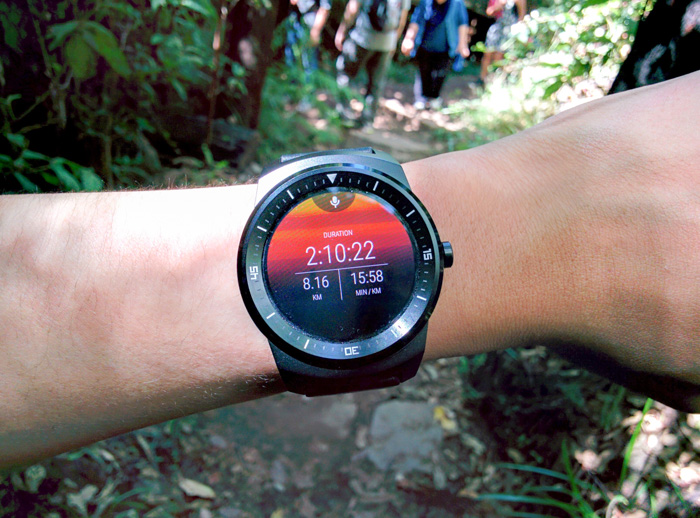 Apps which have been optimized for Android Wear notifications including but not limited to Facebook Messenger, WhatsApp and RunKeeper enables more detailed views, custom actions and also spoken text replies. Apps like the camera also extend special functionality like a remote shutter trigger, convenient for selfie-takers.
Since no Android Wear watches have a speaker, a subtle vibration (light enough not to be heard but strong enough to feel) alerts you of new notifications. Intuitively, a setting on the Android Wear companion app will allow you to automatically mute notifications on the phone if the watch is connected, preventing duplicate notifications.
As someone who has a love and hate relationship with notifications, I have found it invaluable to quickly peek at which app the notification is from and the first single line of text. This allows me to identify the "I must respond", "that's good to know" and "I don't care" notifications so I spend less time distracted in conversations and on the go.
And in the cases I actually do want to act or respond, a quick swipe to "archive" email and the "open on phone" button wastes no time getting you to the relevant app and message on the phone.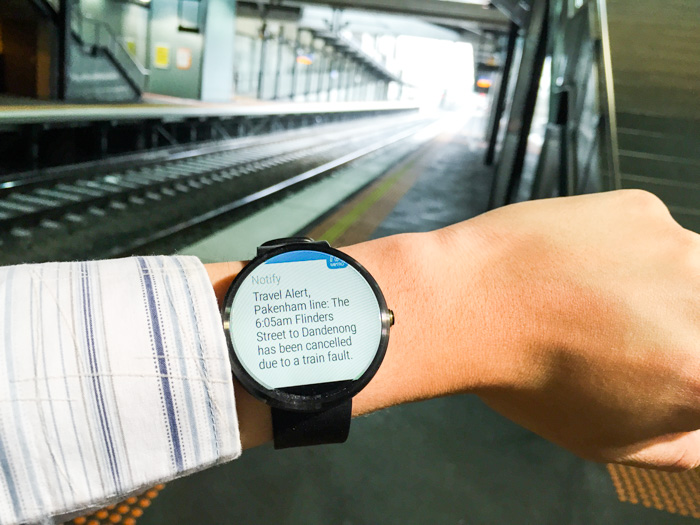 In fact this was one of the killer features of Google Glass, but now it's available in a much more discreet and socially acceptable form factor.
Battery life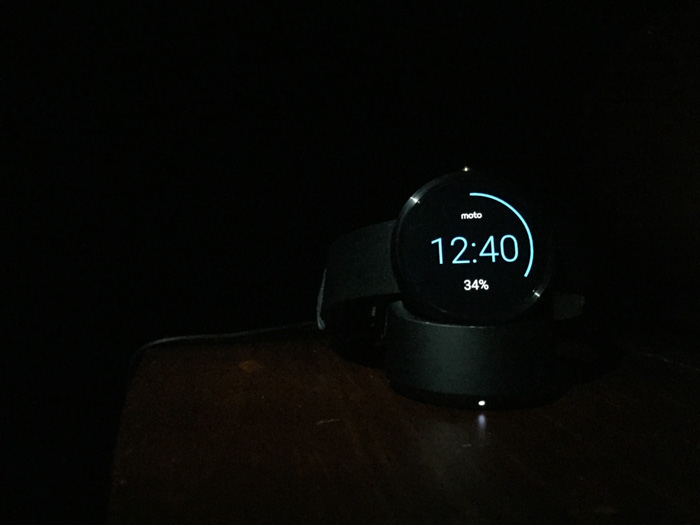 Battery life on the Moto 360 and LG G Watch R have both been impressive, lasting a full day with some juice to spare with a constant stream of notifications and a high brightness setting.
Of course this still means you definitely have to charge the watch every night, but it's rather quick painless, especially in the case of the Moto 360 whereby the wireless charger also doubles as an elegant nightstand clock.
Conclusion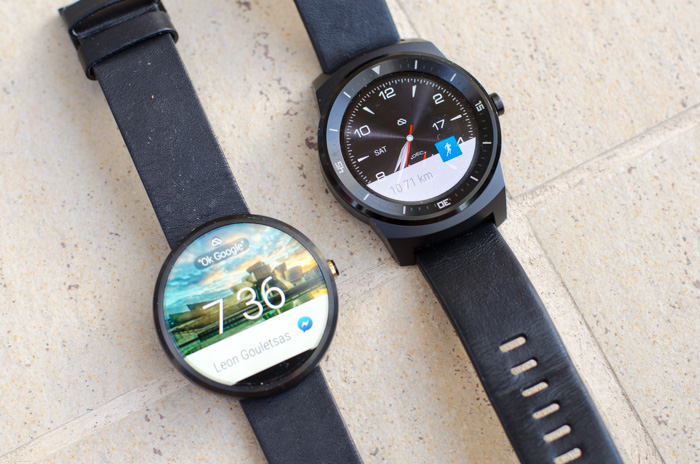 If you already use an Android phone, Android Wear watches are definitely ready for prime-time. If you have any interest in a wearables for either fitness tracking or notifications, then Android Wear is one of the most capable multi-function wearable platforms out there today.
If you prefer form over function, the Motorola 360 is a amazing piece of crafted technology that looks amazing and works well. On the other hand if you slightly favor function over form, the LG Watch R is probably one of the best functional Android Wear watches on the market today that still looks good on any wrist.