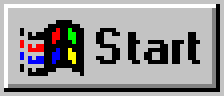 It has been just a little over 11 years since the concept of the "Start" menu was introduced to Windows 95. Ever since, "Start" has revolutionized the way people launched applications on their computer. Today, it is quite easily the most commonly associated visual element with the Windows operating system. But Vista is going to change all that.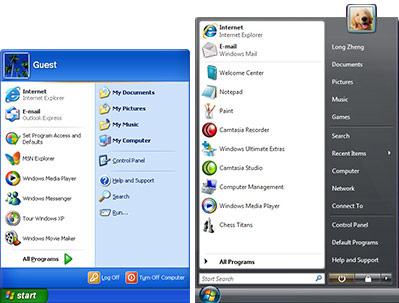 "Start" has been in the center of ridicule ever since it was introduced. The contradiction of using "Start" to shut down the computer was unbelievably humorous to some. The label "Start" has been removed because it is no longer relevant in computing today, as we have become so familiar with the concept that it has become redundant and almost annoying.
The new button has been named "Windows Pearl" and "Windows Jewel" by some, however, the label of the button remains to be "Start". I presume the name has been kept for legacy support, as undoubtedly ever piece of Windows documentation refers to the "Start" menu. Even so in the Windows Vista help files.
"Start" plays an important new role in Windows Vista as the launching pad for everything you'll want to do on the computer. By integrating search into the "Start" menu, not only does it make finding files and applications much more convenient, but it changes the whole philosophy of "Start". Where "Start" only used to only concern applications, in Vista, it will help you access everything on your computer.
An example of how "Start" is changing in Vista can be clearly demonstrated by email. In previous versions of Windows, to access email you could normally launch your preferred email application by using the "Start" menu. But in Windows, you could simply search the contents of your email straight from the "Start" menu, and open up the exact email you are looking for without even touching your email application. This not only brings convenience to finding content, but also fundamentally changes the way we work with applications and files.
The new "Start" allows for much more than just launching applications. Just like how Spotlight in OSX has revolutionized the way people work with documents and files, the new "Start" will do the same for Windows.