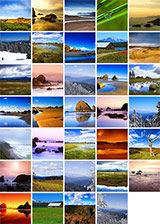 Hamad Darwish, the Flickr photographer commissioned to shoot Windows Vista wallpapers, has been busy over the last few weeks.
He's appeared on Good Morning Kuwait, a TV show comparable (not in scale, but at least in name) to Good Morning America; Digg (3 times); the Al-Anba newspaper; Kuwait Clientele magazine; Softpedia; Chip.de; the Official Windows Vista magazine and a Chinese magazine for the arts, which they claim to be the biggest in China. Apparently, he has also landed a contract with a photography equipments manufacturer and been commissioned to teach a photography course.
You could say, I started something. But that's not all.
Hamad has since released as promised, the entire set of photos taken for Windows Vista in high-resolution of 1920×1200 pixels on his personal website. Go grab 'em!
I've picked Destination – vol. II as my new wallpaper. It's just amazing. 🙂