It feels like Microsoft is suffering a little bit of the 'Duke Nukem syndrome' – that is, announcing really cool and exciting products way ahead of its time, building up as much hype as it can get, ignoring it, letting it gather dust and stretching the release date longer than most people's attention span until, well, the rubber-band breaks and no one cares anymore. Why are great products left rotting?
I know you're thinking about the infamous Utopian file system, "WinFS", but that's not what I'm referring to. There's plenty of other goodies down in the Redmond attic – including a bunch of Live stuff and Viridian. I'm referring to of course products much more tangible; one is a keyboard & mouse, the other is an instant messenger software. Remember these?

The "world's-first" backlit rechargeable keyboard, the Wireless Entertainment Desktop 8000 and the "world's-first" WPF-powered instant-messenger application, Yahoo Messenger for Windows Vista. Two great products that would have blown away the competition, had it ever shipped when anyone still cared.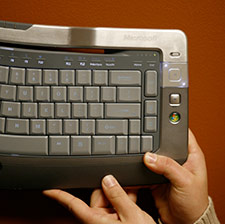 The thing that annoys me is how they unimaginably screwed up the launch of the Wireless 8000. What they had what a thing of beauty – everyone loved the design, quite an achievement coming out of Microsoft. They also had the hype, because this thing was so unique at the time, it spread like wild fire – everyone wanted one. First, it was rumored to launch in holiday 2006, then officially announced to February 2007 to coincide with the launch of Vista. And now, it's all the way back to September 07. Why?
This was not simply just a cool prototype that had problems realized, it was as real as the iPhone. They had no problems sending these out to reviewers, I even touched one at CES. I can't imagine they would run into any manufacturing problems, but obviously they have. If this product ever ships, it wouldn't surprise me there'll be also plenty of (cheaper) alternatives like it. In my opinion, missed opportunity for Microsoft to hold on to their keyboard & mouse market lead.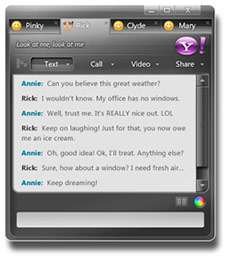 An example of a conversation on Yahoo Messenger between tight-ass employers and sun-deprived employees.
On the other hand, I'm willing to make some concessions for Yahoo Messenger since it's not under Microsoft's control. First shown at CES in January, Yahoo said they have been developing on a version of their IM application exclusively for Windows Vista to take advantage of the fancy Windows Presentation Foundation framework. It was demoed to us live pretty much fully functional – if not all complete. Of course, Yahoo never announced a release date, but "coming soon" shouldn't be "see you next year" either.
Frog Design, the designers behind the WPF user interface insists "This process of overlapping work streams enabled the application to be built in a dramatically shorter timeframe than possible in the traditional software process." Oh really? However, I can't imagine a top-notch design company like Frog not delivering on their schedules. Even with all the fancy new Microsoft frameworks, there's some geniuses at Frog who have no problems doing cool stuff within some really tight time constraints. If I were to speculate, I'd say Yahoo's not putting in what they ought to.
No, I'm not trying to say "don't talk about anything until you can actually deliver" because that will just undo all the hard work that made the great transparent company Microsoft is. What I insist is, as well to the Ultimate Extras team if any of them still live to bear the title, "tell us your problems and keep us in the loop". No one's making a chirp about the Wireless 8000, and no one wants to set any targets for Yahoo Messenger. Are we so afraid to missing the deadline that we're going to abandon 'hope' altogether?
If the iPhone has shown us anything is that release dates still work. Just because it might get pushed back a week doesn't mean you shouldn't set one to begin with. If you're that unsure, bundle the Wireless 8000 with Duke Nukem Forever.