I'm going to be as clear as I can be. What follows is going to piss off a lot of people, from Microsoft that is, people I probably shouldn't piss off if I were to expect any friendly accommodation again in the future. But I believe dealing with the current situation is more important than the short termed prospects of my blogging career. So here goes nothing.
Things have changed, things aren't what it used to be. Scrutinizing Steven Sinofsky with funny pictures and satirical references is not for a lost cause. Some argue the "Windows people" has always changed and this is nothing new, but I reckon this change is worth noting. The grandfather of Windows, Jim Allchin, who's shipped Windows for almost 17 years has departed. At the very least this new group people come from different backgrounds, have different values and will obviously manage the organization and its people differently.
To witness their impact, look no further than the infamous 2-line press release pleading for "future-talk silence". Again, some people takes Microsoft's side and argue it is too early to talk about the future, and I partially agree. However it shouldn't be said they can't even talk about the past and present which I'm also getting the vibe of. I remember a time, not long ago, when people used to love talking about their job and what they have done. "All Windows questions lead to the same answer: NO." confirms another blogger.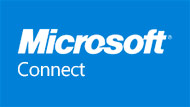 Forty-eight hours ago something happened that stunned me with disbelief. First, a little backgrounder on the subject in question. As Mary Jo Foley reports, after the launch of Windows Vista, the Windows Beta team has asked the Windows testing community what they would like to see in future versions of Windows – a great initiative. The process involved mostly consumer users, likely Windows enthusiasts, to write their ideas and feedback using a report-format form which they will submit to a central repository. These reports will then be judged solely by other community testers on their validity and importance, thus given a rank based upon thousands of votes and comments. The idea is much like if not entirely the same as Dell's IdeaStorm in an invite-only manner.
On July 11, the Windows Beta team sent out an email to these testers reminding them of the progress that has been made. The email along with many kind words included a list. A list highly misinterpreted as "the feature list of Windows 7". When in fact, it is just a list of top-rated suggestions from people like myself.
A list that can be made so easily by clicking on "sort by rating".
A list, undisclosable, undiscussable, of startling consequences on Microsoft's own enthusiast Channel9 community.
A list so predictable you could find alternatives on any major Windows enthusiast forum like Neowin, AeroXP and even ironically Channel9.
A list without participation from Microsoft, in fact I would even dare to say hardly anyone on the Windows development team has seen or taken seriously.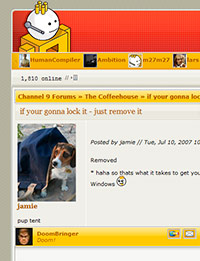 One overly enthusiast tester and long-standing member of Channel9, Jamie, thought this particular list would have made great conversation and debate at Channel9 where he decided to post it several hours later. Within hours, his thread was locked, indirectly forcing him to remove the quoted list. Later that day, a discussion spewed over jamie's topic where people started questioning what was originally posted, curious like humans are suppose to be. Of course, this curiosity was met by the opposing force, the administrator, Charles, who laid down the law, "PLEASE don't post illegal stuff here again. End of story." A fair ruling, but how did it come down to "illegal stuff"?
One would think, or at the least I would think a list of product suggestions thought of by the people, written by the people, moderated by the people and ranked by the people is a product of the people. Under some unexplainable spell, some Microsoft employees insist this becomes company secrets, thus, protected by non-disclosure. I beg them to reevaluate what's at stake. A long list of ideas with mostly unreachable expectations (replace error codes with plain explanation), monopoly-inducing practices (bundling antivirus) or just plain common sense (consistent design). How did this become the gold bricks of Microsoft?
Ironically, this is exactly why Microsoft does not accept product suggestions from the public otherwise. Microsoft's own terms of service and copyright document states in nice readable and calm capital letters,
MICROSOFT OR ANY OF ITS EMPLOYEES DO NOT ACCEPT OR CONSIDER UNSOLICITED IDEAS, INCLUDING IDEAS FOR NEW ADVERTISING CAMPAIGNS, NEW PROMOTIONS, NEW PRODUCTS OR TECHNOLOGIES, PROCESSES, MATERIALS, MARKETING PLANS OR NEW PRODUCT NAMES. PLEASE DO NOT SEND ANY ORIGINAL CREATIVE ARTWORK, SAMPLES, DEMOS, OR OTHER WORKS. THE SOLE PURPOSE OF THIS POLICY IS TO AVOID POTENTIAL MISUNDERSTANDINGS OR DISPUTES WHEN MICROSOFT'S PRODUCTS OR MARKETING STRATEGIES MIGHT SEEM SIMILAR TO IDEAS SUBMITTED TO MICROSOFT. SO, PLEASE DO NOT SEND YOUR UNSOLICITED IDEAS TO MICROSOFT OR ANYONE AT MICROSOFT. IF, DESPITE OUR REQUEST THAT YOU NOT SEND US YOUR IDEAS AND MATERIALS, YOU STILL SEND THEM, PLEASE UNDERSTAND THAT MICROSOFT MAKES NO ASSURANCES THAT YOUR IDEAS AND MATERIALS WILL BE TREATED AS CONFIDENTIAL OR PROPRIETARY.
However Microsoft Connect, the centralized beta-testing program has a different terms of service which welcome and allow feedback. It's a nice contrast.
I'm afraid, afraid of Microsoft fleeing back to the pre-Scoble stone-age. Where NDAs and private betas are the norm and public knowledge is mostly based on communication leaks or rumors fueled by blurry-cam screenshots. Not good for enthusiasts, not good for PR.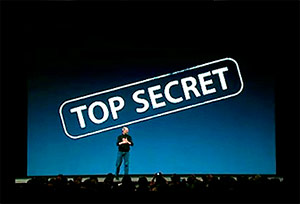 There is one other company that comes to mind and that is Apple. It's easy to argue their secrecy and practices may have contributed to much of their success, however it's also not impossible to draw connections between the failure to communicate and many of the problems many customers has been tearing their hair out about, for example the missing landscape keyboard in the first (and current) iPhone release. Problems entirely avoidable or at least its importance raised before launch.
One Apple user (and at one time, enthusiast) wrote to me, "You're not even close to describing the hell that is Apple and non-disclosure. Apple is famous for requiring NDAs from people in exchange for hardware fixes. They did that when the iBook motherboard problems surfaced, you could have it fixed, if you signed a contract (news article in Danish) that said you couldn't go public with the info."
To conclude, using gas/liquid analogies to help summaries my thoughts – Windows has always had its fair share of leaks and other IP spillages (for example, wonder why there are so many Media Center copies? Because of a leak a while ago, Microsoft could not claim the patent for MCE UI), and Microsoft has all right to protect its assets. But if you leave no room for that expanding balloon of thoughts and ideas to escape, it's eventually going to pop or shoot into the sky sounding like an unpleasant discharge. That is not going to be pleasant at all.