It looks like our favorite camera-shy service pack is being hammered by the screenshot paparazzi as every die-hard enthusiast and his dog now has their paws on the Windows Vista SP1 beta which has been leaked left, right and center. I, for one, is not brave enough to pursue such a risky endeavor, so I'm glad someone else with an eagle-sight is scanning every pixel for user-interface changes as well.
From everything I've heard up to this point, there are no planned major user-interface enhancements, fixes or even polishes for Vista in Service Pack 1. And so far, that proves to be correct and my expectations remain very low as they should be. However, some of the more vigilant members at the JCXP community have spotted at least 2 interface tweaks worthy to note for the pixel-loving enthusiasts.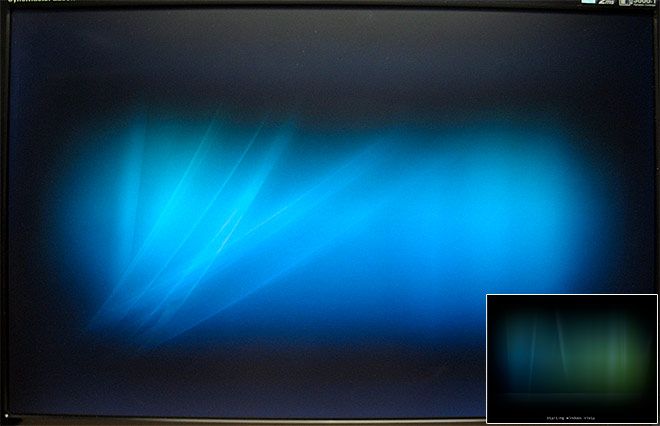 The newer Windows Vista alternate boot screen image in SP1. (Inset) Alternate boot image in RTM. Image credit:
JCXP
.
Most of you should be aware of the "/NOGUI" tweak for Windows Vista which enables the alternate "Aurora" boot-screen splash image. As spotted by "VistaReloaded", it appears that in SP1, the aurora image has been changed to the same flair used in the "resume from hibernation" splash, with the text "Starting Windows Vista" also removed. This flair is far more consistent with the background image presented during log-in.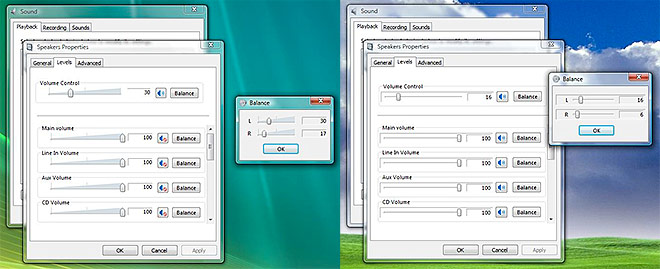 (
Left
) "Sound Properties" in Vista SP1. (
Right
) "Sound Properties" in Vista RTM. Image credit:
JCXP
.
The other change, as spotted by "Andrei999", is an updated slider control in the "Sound Properties" applet to control volume levels. Compared to the traditional sliders in RTM, in SP1, the sliders are presumed to use the newer sound-sensitive volume controls which provide visual feedback on sound outputs as shown by a green equalizer.
It would be great to see Microsoft clean up some of the minor and obscure graphical annoyances around Windows Vista like the "Previous Versions" icon which they failed to check into the final build, but I know thats as high of a priority as removing the 16-bit icons in the systems folder. If anyone's still hoping for a full UI sweep, stop dreaming.