Update: Due to a misunderstanding between Microsoft and Animal Logic, the PowerPoint presentation has now been removed.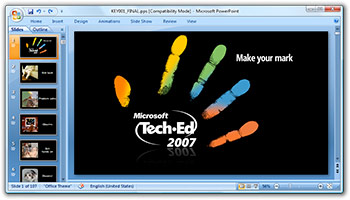 The PowerPoint slides from last week's Microsoft TechEd Australia 2007 conference keynote presentation has now been officially published on CommNet for public download and viewing. The PowerPoint file comes at a whopping 29.8MB with high-resolution images spanning over 107 slides.
This is the Full-Monty – everything from the actual presentation, including Frank Arrigo's LOLCat pictures and Michael Twigg of Animal Logic's high-resolution renders and concept arts. There's only headings and pictures here, so most of this probably won't make much sense for anyone who didn't attend keynote to listen to what the presenters had to say, but there's still quite a bit of eye-candy from Animal Logic to enjoy.