Who would have guessed, a rookie team from Australia whose representatives in the past has never gone as far as the world semi-finals with a blow-up Kangaroo as a mentor would actually come out first-place champions in the Imagine Cup world finals. The awesome part of this story is that I'm actually on that team. w00t.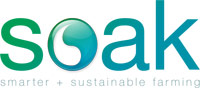 Naturally when you win something like this, the question you always get is "how did you do it" followed by "no way, seriously, how did you do it" and "when you are rich don't forget about me". Now that this web server is alive and kicking, without any further ado, here is how my team and I conquered planet Earth Imagine Cup 2008.
To be perfectly honest, all of this was very close to have not happened at all because of my reluctance to join the competition in the first place. When my teammates asked me to join them back in February I actually declined twice because I thought I was already overloaded and couldn't contribute much. I guess playing "hard to get" turned out pretty well after all. My teammates would probably have a different opinion on this.
Choosing the topic was almost trivial, the biggest environmental problem in Australia is the lack of water resources. Most people at this stage would probably start to think about households because that's probably what all the advertisements are saying, "turn off your tap and save the world". Granted saving water at home is important but there's no comparison to how much water the agriculture industry uses. Sure, drinking water is not their primary source but the environment is a closed loop and any water resource is precious.
The next problem we faced was that none of us are farmers. My farming experience went as far as "plant the seeds, water it and wait". That didn't help us very much. Our solution to this problem, and I think the one of the most successful steps in our journey to win was to speak to farmers. We went out to a farm in the country who a team member's parents were familiar with the owners, talked to the owner and the farm operators to learn first-hand about farming and the problems they are facing.

What happened next could probably be noted as the "secret sauce" to our success. After a day of walking, talking, more walking and running from the rain on the farm, we drove to a nearby Hungry Jacks (a.k.a. Burger King internationally) store to plan what would essentially become our "SOAK" solution over a couple of burgers, fries and Coke with unlimited refills. I remember very clearly only refilling once, wasn't very thirsty.
In the several weeks and months following, there were a couple late nights, a few sessions of Boom Blox on the Wii and even more sessions of Bomberman Live. Team-building exercises is probably the right word.
Now fast forward to Paris, I begin to comprehend just what we're up against. We meet two guys from the United States on the shuttle bus to find not they were not the actual competitors but "fans" of the competitors to cheer them on. All we had was a blow-up Kangaroo and a fluffy Koala. The Imagine Cup was a lot bigger than I imagined (pun).
The seven days that followed was a lot of fun, excitement, disappointment, confusion, tiredness, thinking, preparing, digesting, walking and talking.
The food was popular to say the least.
We present.
We are in the the semi-finals. We present more. We are in the finals.
The rush otherwise known as interviews begin.
And we go to the Louvre (yes home to the Mona Lisa) to rehearse.
Followed by another quick interview.
Sometime in the afternoon prior I must have said out aloud "gee, I don't feel stressed out at all with the finals, I wish I could find something else to do to keep me busy". I say this because Microsoft then informed me a group of students were going to talk on a panel at an United Nations event in the morning of the day of the finals. I was part of that group. I don't regret speaking at that event (you don't get to talk to hundreds of the education leaders of different nations very often) but I just wish it was better scheduled.
Finally, we went to the Louvre and we presented one last time.
By then our mentor was feeling a little "flat-out".
Then we had to wait almost 24 hours for the results. (Speaking of which, I'm not exactly sure what I did that night – I don't remember or have any photos.)
Next, announcement day. Everyone was at the Louvre this time – students, press and delegates from the UN education forum.
We must had given just under 50 interviews and demos because I don't ever remember talking to David (who was doing most of the demos).
Our mentor helped too.
Then the announcements. History speaks for itself.
Followed by more interviews from left, right and center.
And I kissed our mentor (who was actually quite modest).
Then we partied.
When we realized there was no food bigger than my right pinky, a few of us went out to a restaurant where Microsoft's Max Zuckerman showed off his cool party trick. It fell over more often than not, but you wouldn't know that because that's the magic of photography.
On the following day, we went to where all champions go to celebrate after their big win. Disneyland Paris. Here, I discovered my soft spot for "It's a small world" – a more approachable ride for people with motion sickness like me.
Update: Here's a couple screenshots from our Silverlight web application software with the final user interface which I'm very proud of to have designed and helped develop.
Update 2: Thanks to my teammates – David, Dimaz and Edward. Special thanks to Microsoft Australia's Roger and Karo for taking care of us abroad. Special mention to our Commonwealth buddies – Microsoft Canada's Jean-Luc David and the Canadian team for the many enjoyable dinners. Finally, thanks to Joe Wilson, Emanuele (Millo) Ognissanti, Max Zuckerman, Nic Fillingham and all the Imagine Cup hosts and crew for hosting such a spectacular event.