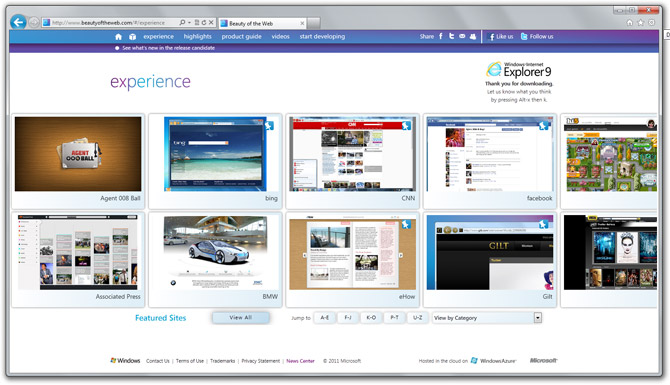 I must admit I use Firefox 4 day to day, only because I'm still a web developer by heart and can't live without the Swiss army knife of the web, Firebug. That being said, I take my hat off to Microsoft's Internet Explorer 9 team for making the web better for everyone, even for those like myself who don't use it.
When Internet Explorer 9 was first announced at PDC09 more than a year ago, I dubbed it "a free upgrade for the web". Turns out that wasn't a bad analogy.
With the final release launching next week on March 14, looking back throughout its development cycle, its not only proven it's very much a next-generation browser but one that's also keeping the competition honest. Surprising considering its previous position.
Granted Internet Explorer is still far from perfect (ex. no CSS3 text-shadow still), what instills confidence for me in their ability to compete is that their hardware-accelerated rendering technology was not only groundbreaking when it was first demonstrated 17 months ago, remains the leader still.
Neither the upcoming Firefox 4 release nor Chrome has been able to match it. Not surprising since Dean Hachamovitch told me it was a complex engineering feat during an interview, of course I couldn't comprehend just how far ahead they were at the time.
The fact that Mozilla and Google tried and will try even harder for months to come is why all Firefox and Chrome users should also appreciate how IE9 has influenced the whole industry for the better. Competition, at its finest.