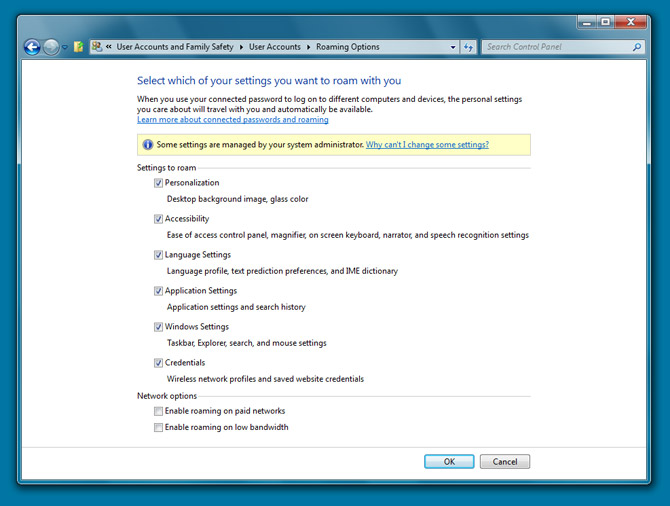 Thanks to some random pokings by curious enthusiasts on the MyDigitalLife forums, the user account roaming options in the early builds of Windows 8 has been exposed, shedding some light on what it enables.
The feature, which appears to be only available for "Linked" Windows accounts (presumably to Windows Live), allows for users to "roam" to different computers and devices (*cough* Windows Phone) with their various settings and configurations, automagically applied.
The range of settings for roaming include the desktop wallpaper, Aero glass color, accessibility options, language options, applications settings (probably only for AppX packaged apps), Windows settings and WiFi profiles and Windows-managed passwords.
As someone who uses both a desktop and laptop, this is clearly going to be one of the killer features of Windows 8. Together with the Windows Store, this feature should deliver a consistent Windows experience with applications and settings available anywhere on-demand.
In addition, it's also interesting to note the two roaming options "enable roaming on paid networks" and "enable roaming on low bandwidth" which would indicate Windows 8 might have the ability to distinguish networks with data charges and/or bandwidth limitations. I hope this option is available elsewhere in the OS as it always kills me to see Windows downloading updates when I'm tethered to 3G mobile data.