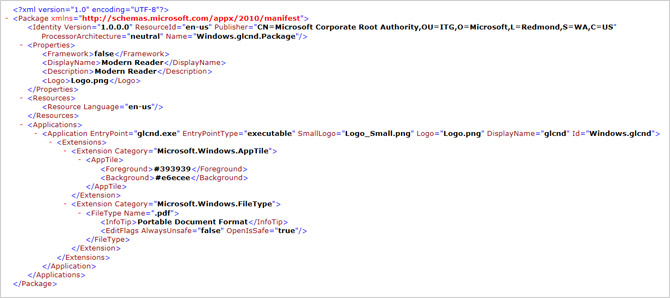 In an app-centric world, Windows 8 will be adopting the trend full-on with a Swiss Army Knife of new tricks. One of which is a new universal application deployment system called AppX which I've been recently been able to take a first look at.
Although Windows 8 will disrupt many components of applications, including how they are written (Immersive) and distributed (application store), AppX concerns only the deployment aspect of applications. More precisely, it's a tight specification that describes how applications are packaged and installed.
Clearly inspired by XAPs for Silverlight, the critical aspect of AppX packages is an XML manifest file appropriately named the "AppXManifest.xml". In this file, developers will have to specify many compulsory and optional attributes of their application, in fact, much more than what's required from Windows Phone developers.
From a specifications document it's revealed attributes include but are not limited to:
Application identity – name, publisher, version
Application architecture – processor architecture, type of application, framework required, operating system version
Dependencies – name, publisher and minimum version of other required applications
Capabilities – networking, file system and profile capabilities requested by the application
OS extensions – associated filetypes and protocols, AutoPlay, "Charms", notifications, splash screen
Tile customization – logo, name, description and colors for the tile-based user interface
The extensive list of properties signifies the comprehensive scope of this system to be the ideal deployment strategy for "applications", in all essence of the word. In fact, the AppX format is universal enough so it appears to work for everything from native Win32 applications to framework-based applications (WPF, Silverlight) and even *gasp* web applications. Games are also supported.
Not only will this help developers improve the application experience, but also for end-users. It's undeniable AppX will tie into the Windows 8 application store to deliver a more consistent experience to download and install apps, including the ability to review the security-based capabilities the application will request.
As both a developer and end-user, this is exactly what Windows needs to streamline the application experience for the platform whose current laissez-faire strategy is no longer suitable for the times.