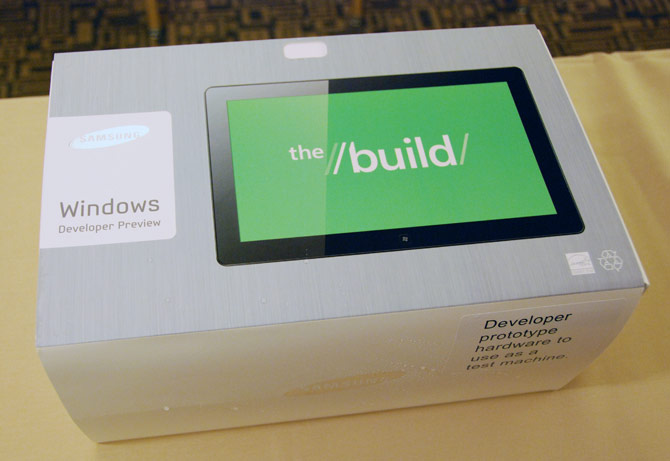 Christmas came early for several thousand attendees of the inaugural Microsoft BUILD conference. Each person in the audience (excluding staff and press) has just been told they get to take home a Samsung Windows Developer Preview PC to test drive development on a preview release of Windows 8.
At the end of the first day keynote where the Windows team led by Steven Sinofsky announced and demoed the new WinRT platform and tools to develop new Metro-style applications for Windows 8, developers will now have the chance to see their applications live on a prototype Windows 8 slate device.
Although the device is claimed to be a prototype, it's near identical (with hardware differences) to the production-version of the Samsung Series 7 Slate PC model 700T1A. Of course it's preloaded with the "developer preview" build of Windows 8 (8012.winmain_win8m3). It is also the same secret device shown off at TechEd New Zealand a couple of weeks ago.
The specifications include a 2nd-gen Intel Core i5-2456M 1.6GHz, 4GB DDR3 RAM, Samsung Super PLS 1366×768 11.6″ display, 64GB SSD, a set of sensors, USB 3.0, Micro SD slot, HDMI output and an UEFI BIOS among others.
At around 12-inches with the flush screen margins, 909 grams in a 12.9mm thick package, the slate is thin and light enough to hold with one hand for a reasonable amount of time. However like the Motorola Xoom Android slate which also has a widescreen display, the wide aspect ratio makes it difficult to hold in one hand while interacting with the other compared to the more square iPad.
Even though the device gets a bit hot sometimes and is only intended to indicate the type of Windows 8 devices in the future, the reasonable performance at least validates the idea that this type of Windows 8 device could be practical both as a touch-only slate and a traditional desktop-driven laptop computer with keyboard and mouse in the one device.
At a retail price of $1,099 for each device, Microsoft is probably giving away around $5 million worth of devices today. Needless to say there's lots of happy geeks in Anaheim right now.
Update: After using the device for close to two days now, the average battery life from pretty general web browsing is about 4-5 hours which is consistent with similar hardware (but not form factor). Since it's prototype hardware it's not representative of Windows 8 device battery life.