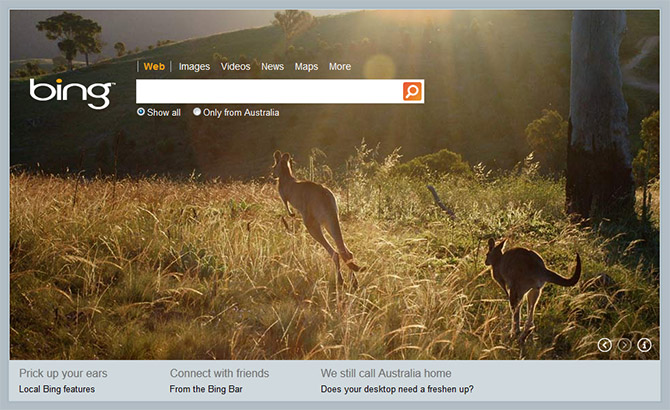 You know it's Australian because it's got kangaroos. Bing Australia made a quiet announcement today that they're officially out of beta. In the strictest sense, it means they've removed the "beta" tag from the logo and enabled a small set of value-add services to the previously barebones local search engine.
Although I believe many of these features were quietly rolled out to Bing Australia over the past year, the official Australian feature-set includes Social Search, homepage hotspots, Instant Answers, Enhanced Results, local results in Bing Maps, News Search, Bing Weather, Image Search and Video Search.
Whilst those might sound quite comprehensive, it's only the tip of the Bing iceberg. You only need to go as far as to compare the "Explore" page from Bing US and Bing Australia to realize the gap.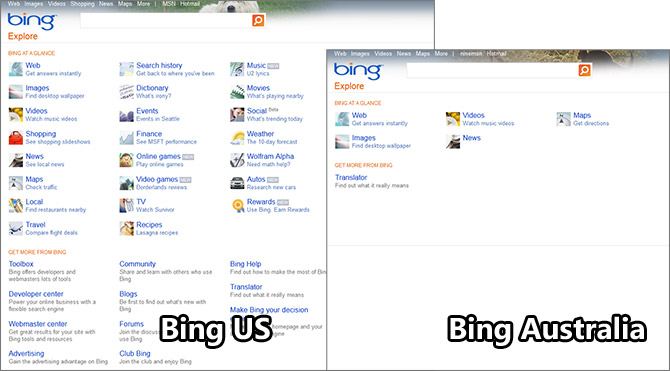 Many of the missing features in Australia (and other non-beta markets like the UK) like shopping search, travel search and map apps is what makes Bing unique and special. It's such a shame to see Bing not capitalize on their strong points in markets outside of the US.
According to the press release Mumbrella received, Bing Australia will be running a special HTML5 video background tomorrow on November 16th. I guess a pretty video can lessen the disappointment a little bit.