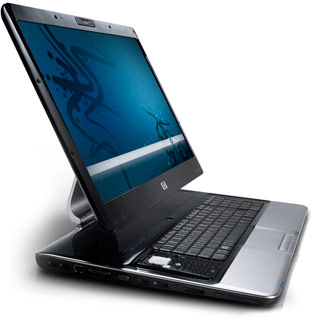 The "31 Days of the Dragon" promotion to give away 31 state-of-the-art HP entertainment notebook PCs is nearing an end with over 16 lucky winners already chosen and only 8 more chances left to win.
Today this site is kicking off its giveaway in a slightly more traditional and chaotic manner with a simple random prizedraw. That's right, if you were too lazy to write a story, take a picture or make a movie, this is as simple as it gets. But there's a twist.
The first part of the giveaway is easy. Head over to the giveaway registration mini-site and submit your full name and email in the form provided. One person is only eligible to submit one entry. If duplicates are detected, you will be automatically disqualified. But if you really want to increase your odds of winning, there is a legitimate way.
To obtain a bonus entry in the giveaway, you will need to be using Windows Vista. Why? Because Vista users gets almost no love and are even shunned for using the latest technology instead of its 7-years-old sibling. It's a shame everyone's being suckered into a hate campaign devised by media companies to sell more ads.
Without rambling on too much, the bonus entry involves users to voluntarily participate in the Customer Experience Improvement Program (CEIP) of Windows Vista. No, this isn't paid by Microsoft although I wished they did. I'm asking you to enable CEIP because it is really the easiest way for you as a general user to help Microsoft improve Windows (and other applications) without any work on your behalf. I for one have enabled CEIP on all of my PCs.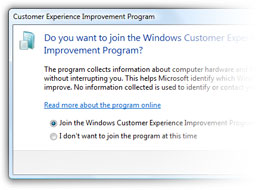 The data collected is entirely anonymous and secure. Some of the information they collect include performance and reliability metrics (ie. percent of time an application failed, average length of time it takes to complete an operation), usage (ie. number of notifications) and configuration (ie. most common processor speeds, distribution for screen resolution).
An example of an outcome from CEIP are improvements to User Account Control. "Vista used CEIP to track the real world UAC prompt frequency and the top reasons for UAC prompts. This data was used to make design changes that reduce UAC prompts in unnecessary scenarios."
To claim your bonus entry, you will need to download a run a small 100KB application which verifies you have enabled CEIP. Special mention to Rafael Rivera for making this possible with an undocumented API call in Windows.
This site's giveaway ends in seven days on the Sunday, June 1 and winner will be announced soon after. Good luck.
Update: The winner has been announced.