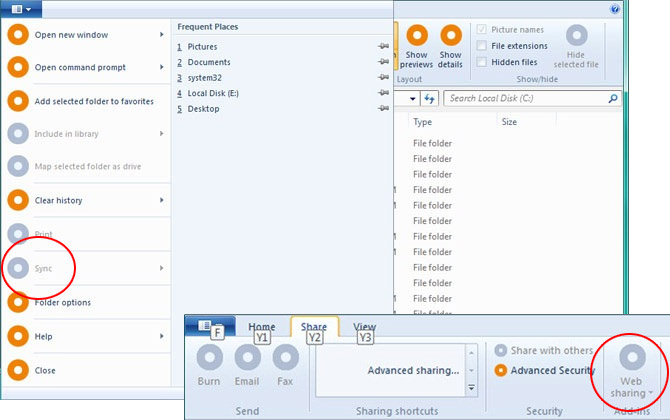 Image credit: Rafael Rivera / withinwindows.com
Earlier today, Rafael Rivera and Paul Thurrott released the second batch of screenshots featuring unlocked features inside the latest build of Windows 8 to be leaked. It's apparent now Microsoft is committed to bringing the Ribbon user experience (otherwise known as Windows Scenic) to the heart and soul of Windows, the Explorer.
Although its not fair to judge the Ribbon implementation in its current infancy state, two user interface elements are worth pointing out that hints at some exciting new file syncing and sharing features baked right into the operating system.
Since these functions appear to be dormant in this particular build, I can only speculate "Sync" would offer functionality similarly to Windows Live Mesh to synchronize folders across computers. On top of that, "Web sharing" might enable SkyDrive-like functionality to make their files and folders accessible through a web URL, for easy sharing with friends and family.
Of course both of these features are consistent with the overarching "Windows + Cloud" strategy that combines the best of local and cloud computing. Perhaps this is only the beginning of the Windows and Windows Live convergence.